Monday, March 02, 2015 | Posted by kara-karina@Nocturnal Book Reviews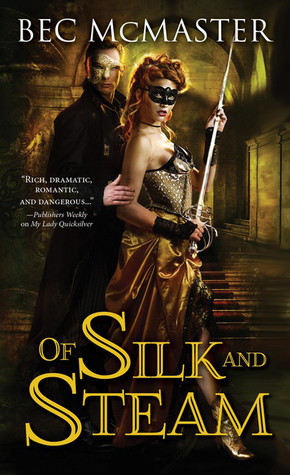 Of Silk and Steam by Bec McMaster (London Steampunk #5)
Egalley thanks to Sourcebooks Casablanca
Synopsis from Goodreads
Enemies. Allies. Lovers.

When her beloved father was assassinated, Lady Aramina swore revenge. The man responsible is well beyond her grasp, but his dangerously seductive heir, Leo Barrons, is fair game. When Mina obtains evidence proving that Leo is illegitimate, she has the means to destroy both the killer and his son, a man who troubles her heart and tempts her body.

A woman of mystery, Mina's long driven Leo crazy with glimpses of a fiery passion that lurks beneath her icy veneer. He knows she's hiding something, and he's determined to unravel her layer by silken layer. He just doesn't expect the beautiful liar to be the key to overthrowing the corrupt prince consort… or to saving his own carefully walled-off heart.
Amazon  US/UK | Amazon kindle US/UK | The Book Depository 
9/10
I

don't know what's going on with Bec McMaster but she seems to be writing her best books in odd numbers. Kiss of Steel, My Lady Quicksilver, and now, Of Silk and Steam are all pretty spectacular, while I can't even remember the names of books in between.
Tags:
9/10
,
bec mcmaster
,
romance
,
steampunk
,
бек макмастер
,
роман
,
стимпанк